WHAT OUR CUSTOMERS THINK
Voss Performance is responsible for making a life-long dream come true for me. Erick Voss assembled my Superformance Daytona Coupe to a level that I never imagined which has resulted in numerous awards and recognition for the car. It has been invited to be shown at such prestigious events as the McCall's Motorworks Revival in Monterey (2007) and the LA Art Center College of Design Car Classic (2009) and has won awards at many car shows, including "Best of Show" awards at the John Force Christmas Car Show (2008 & 2009) and the All Ford Show (2009). The car is always displayed with the hood up to show of the incredible work done by Erick with the drivetrain installation and I believe is the reason the car continues to win awards. Erick's work goes way beyond looks as I put my full trust in him by tracking the car several times per year and have run the car at California Speedway, Willlow Springs International Raceway (Streets of Willow and Big Willow), and Reno-Fernley Raceway. Erick has done an excellent job of setting the car up for the best of both track and street handling. I drive the car on several trips every year making regular trips to Monterey and Las Vegas, putting approximately 14,000 miles on the car over the past three years. Erick's attention to detail, quality and performance have provided me with not only a great car, but also a great ownership experience.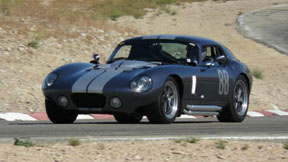 Doug Campbell
I own a 2008 Ford Mustang GT & purchased a Twin STS Turbo from STS. Rick Squires and his staff with the assistance of Erick Voss (Installer) from Voss Performance made this addition to my car an easy fit. The car looks GREAT! Runs AWESOME! It puts you in the WOW factor! This was a one time deal never had any problems the staff was professional and they answered all of my questions regarding the very unique turbo system from the rear. As a professional driving instructor I would highly recommend this system as an added power to your car. I have cars with superchargers but this STS Turbo by far is second to none.


Andrew Wunderlich TRTS, INC
I can't thank Erick and everyone at Voss Performance enough for the outstanding job they did building our new Superformance MK III. After checking several installation shops, I settled on Voss Performance for this most critical part of our project. Erick's experience with Superformance, and his exceptional working relationship with Roush Performance engines make him the natural choice for the job. While all these projects begin as "drive train installations", the quality of the finished car is dependent on many additional factors. The proper suspension setup, wheel alignment, transmission and clutch choice all play significant parts in the way the car drives and performs. The esthetics of the cooling, lubrication, and wiring systems become visual accents to the car. Erick's attention to quality extends all the way through to the finest details. His choice of fasteners, clamps, and motor mounts finished our MK III in car show caliber. Thanks again, Erick for building our beautiful new car.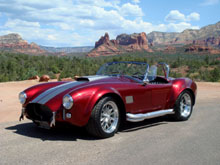 Joe Huff
About six months ago I had you install a ROUSH SUPERCHARGER on my FORD MUSTANG. It drives just like a stock Ford Mustang until you put your foot into it and then "Oh Mama"!! I have found absolutely no downside to the ROUSH SUPERCHARGER except the stupid smile on my face when I'm driving my ROUSH MUSTANG.
As a long time car enthusiast who has built many frame-up restorations that were high-performance, concours quality cars from 55 to 57 Chevy and Classic fuel-injected Corvettes, I have a lot of background in quaility performance cars and can be very restrained and objective in my opinions.
Therefore my opinion of the ROUSH SUPERCHARGER that you installed is that I love it , I love it , I love it , I love it , I love it , I love it , I love it , I love it !
Oh, in case I forgot to mention it… I love it !
Thank you,
Dave J. Dundon
You take pride in your wheels.
Something happened in your lifetime to make you a car enthusiast – whether it be to turn a wrench, to stomp on it and listen to the greatest rumble in the world, or to just be behind the wheel of a car that people turn their heads to see and admire.
Of my five Mustang GTs, Voss Performance has helped me achieve the best one yet – looks, power, braking and reliability. VP has helped all along the way with objective "gear head" advice and remarkable workmanship. Importantly, his customer service is like having a fire hydrant for a fuel pump – it never runs low.
I am very happy Voss Performance is in my corner.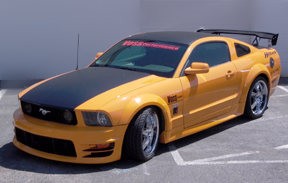 Koji D. Kanemoto
After many (many, many) years of dreaming of having a replica 1965 Shelby Cobra 427 SC, I finally got to do it. I ordered a beautiful Superformance MK3. Part of what I wanted was to do the engine install myself, but there were some aspects of finishing the car that a non-professional, like myself, could not accomplish very well. I was lucky enough to live near Voss Performance where Erick Voss was able to take care of all my finishing up needs.
It is clear that Erick was not only very experienced with these machines (he's installed engines in over 170 of these Superformance Cobras!) but in talking to him it was clear that he really knows and understands the technical details of his work. It's not only his experience: He's smart. My background is physics/aerospace engineering and when he gave me advice on bolt torques vs. material and thread size, proper drive-train angles and how to correct them, explained Tremec's use of anerobic sealants or recommended no more than 1700 ppm zinc additive in oils (I was already very familiar with a couple of these items) it was clear I could trust any recommendation he made.
Erick took care of some final clutch work, corrected the drive train angles, inspected some potential brake issues, set up the ride heights, and upgraded the ball joints to resolve a vibration problem. He also drove the car and inspected it to verify it was operating correctly, that there were no loose bolts, that my install had no issues, etc. (his experience counted for much). Finally, he recommended some good folks for wheel alignments and dyno tuning.
Erick was always willing to answer my many questions, did high quality work, stuck to his estimated schedules and charged a reasonable price.
In the end I have a lot of confidence in my dream car (many thanks to Erick!) and am thoroughly enjoying my fantastic Cobra.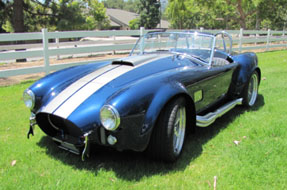 Matt Patterson, Lomita, California
Erick,
What a difference in my Superformance MK lll since you installed the Hi-Perf Ball Joints. All the shaking, rattling, cowl shaking is gone. All my front end alignments, wheel balancing efforts never solved the problem. This is the best SP657 with 53k miles has ever felt, better than new.
Many thanks for your suggestion, great job!
Dirck Bedford, California
ABOUT OUR CUSTOM SWAY BARS – Available in our Shop
Installed them Sat. and spent all Sunday driving and having a blast ! (love them) No! You can't have 'em back! Corners like it's on rails, hardly noticeable difference on normal driving.
Thanx Erick !!!!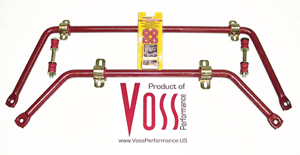 Joda Paulus – Technology & Development (CA)